We are here to help our military friends!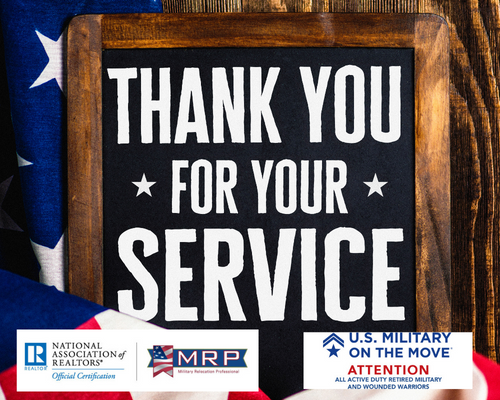 Just a reminder that your referral to your military friends and family is greatly appreciated! Nikki is now both Military Relocation Professional certified through the National Association of REALTORS® and is offering Military on the Move®, which is a rebate or credit on a home sale or purchase to eligible service members. She is honored to be of service and to give back to those who have sacrificed for our country! Ask her for more details!!!! Did you also know that Robert on our team is a veteran? Did you also know that we can set you up with a military friendly lender? Ask us for more details!
Nikki was recently asked why she has chosen to offer Military on the Move®, and the answer is simple... Her husband Bob's dad is a Vietnam vet whose Parkinson's was brought on by Agent Orange from his time served during the war. They are a military family that is navigating the many ups and downs of Bob's dad's health, his services, and his benefits, etc. So offering this rebate/credit is the least Nikki feels that she can do if a service person honors her with their business. Those in the military make/made a sacrifice for us (and believe her when she says that military people like Bob's dad... and their families... have made a sacrifice). She says that it's the least she can do, and a wonderful perk that she is so grateful to offer through our amazing company F.C. Tucker Emge, to thank them for that service to our country and for what they have done to protect our safety and to protect our freedoms!
To schedule an appointment with Team Nikki Davis to chat further about how we can be of service and/or provide a free home market analysis and/or referrals, reach out via phone/text (812) 449-4118 or email [email protected]