New Jagoe Homes Communities & Preview Events
Posted by Nikki Davis on Saturday, June 24, 2023 at 6:08:32 AM
By Nikki Davis / June 24, 2023
Comment
GUEST ARTICLE BY SLOANE HAYHURST OF JAGOE HOMES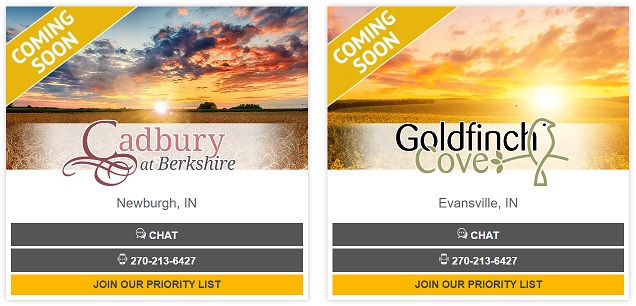 Hello again! This time I'm sharing with you how to sign up for our VIP list and what our new community preview event looks like! If you haven't heard, we are opening a new community in Henderson Ky, a new community on the north east side of Evansville and East Newburgh out near Friedman park. I remember almost a year ago I reported to Owensboro for a sales team meeting, and we discussed the potential market shift due to interest rates - well it hasn't stopped anyone from buying by the way, especially with our current rate incentives - wink wink - but our leadership said word for word - over the next 12 months we are focusing on taking more market share the only question is how much! That is exactly what we did. Come this fall and or sooner or later, Jagoe Homes is bringing three new opportunities/three new communities to the tri state area in addition to the seven existing communities we have open right now.
Like we said in the history of Jagoe Homes, being in the top 200 builders across the nation, what a blessing it is to have this kind of opportunity right here in our community. So first, if you have any interest in learning more about the upcoming communities, you will want to register. Clients, you will head to our website and join the desired community VIP list under the upcoming community tab. You will receive photos and drone footage to update on the street and curbs! It was really exciting. Realtors, if you are personally interested in building or buying, let me know. Realtors are categorized slightly differently in our system so we want to make sure you are receiving the correct information. Please don't hesitate to ask. To be as fair as possible, nothing about the community is shared with me prior to the morning of the preview event. Once we are ready to start sharing plans, pricing and homesites, our team will begin setting up appointments for everyone in the VIP list prior to the public. You will have the opportunity to meet with the sales team, specifically me if you ask for me, and we will sit and review plans pricing and homesites. We will also schedule any be back appointments and or tours of floor plans as well as what steps to take next. You will want to get your financing squared away by working on your pre approval and determine if there is an existing home to sell prior to moving forward with a new build. If you are familiar with the trade program, in the past we have considered trade with preview events like this. Also, in the past we have given additional preview event incentives! That has included several thousand dollars off the purchase of your home! We will ask that you meet with our design team at least once by a certain date and work on a timeline with you to be ready to release your new home for construction by "X" date. Again, this is how it has rolled out in the past however each event has been slightly different. This preview meeting will have a lot of information shared so bring a notepad to take some notes. Either way I am the expert and will guide you every step of the way. Don't forget to let your realtor know you have registered! We love our realtor friends and value those relationships.
As far as homesites go, we have handled that differently in the past. Sometimes everyone wants a different site and everyone gets what they want. Sometimes we have to draw names and that is the order each client picks their site. Again we try our very best to be fair. With all this being said… Henderson I have heard is located by Walmart. Has this been confirmed? I don't know because this is kept secret. Yep I shouldn't even be repeating this… I have heard the north east side is on north green river road. Ope, there goes info again. This location is great because of the proximity to hospitals, restaurants and activities and all things fun on the east side. What I do know is it's called Goldfinch Cove. Then there is Cadbury which is on Oak Grove road across from Chadwick at Berkshire near Friedman. One of the number one reasons people choose Berkshire is because of the proximity to Friedman park and the schools. With all of this being said, be sure to register for the most up to date information on our upcoming communities!