Latest Jagoe Home Incentives **DO NOT MISS**
Posted by Nikki Davis on Thursday, September 28, 2023 at 2:23:51 PM
By Nikki Davis / September 28, 2023
Comment
GUEST ARTICLE BY SLOANE HAYHURST OF JAGOE HOMES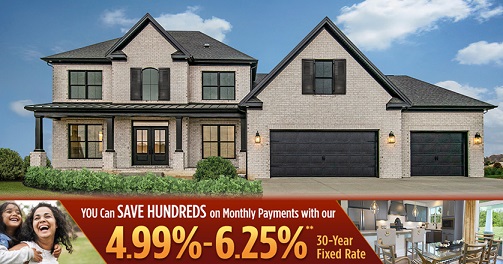 I have some incentives that I am going to share with you when you choose Jagoe Homes as your builder. I am currently seeing buyers who are tired of the lack of inventory in the market or cannot bear the thought of going through another remodel. Given the current state of the market, these incentives will enhance these clients' buying power. This translates to getting more home for their dollar or having a lower monthly mortgage, for example. Ultimately, it means more value. We all want the best for our clients.
First, if our 3-4 month build time is not ideal for you check out our Move In Ready inventory. These homes are predesigned and built with the client in mind who wants new but needs to move now.
Evansville/Newburgh here:
https://jagoehomes.com/find-a-move-in-ready-home/?_sfm_home_city=Evansville-%2C-Newburgh&_sfm_home_price=254200+563200&_sfm_home_square_feet=1218+2918&_sfm_home_bedrooms=2+4&_sfm_home_bathrooms=2+2So again I ask do you want more buying power? We can make that happen with the following incentives:
*4.99% USDA, FHA, VA - 30-Year Fixed rate on select Move-In Ready Jagoe Homes - FBC Mortgage (Limited time)
*6.25% Conventional - 30-Year Stress-Free, Fixed Rate - First Federal Savings Bank (Limited time)
For example: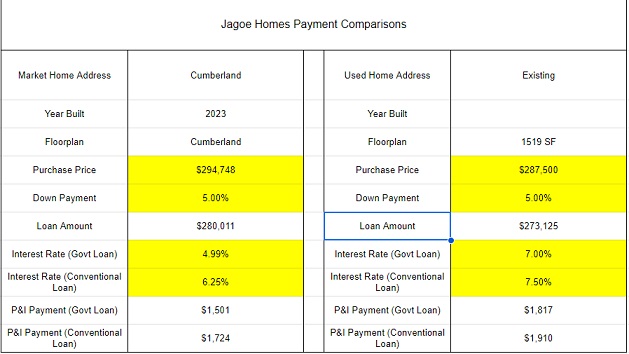 Mortgage Masters and Liberty are also on our preferred lenders list. So, we will buy points towards a rate buy down with those lenders. We will then work with your lender to see where this gets your interest rate.
***By More Save More Savings
• Receive**** $5,000.00 in FREE Design Studio options.
• Save 10% $5,001.00 – 10,000.00 in purchased Design Studio options.
• Save 15% from $10,001.00 - $15,000.00 in purchased Design Studio options.
• Save 20% from $15,001 - $30,000.00 in purchased Design Studio options.
• Save 25% from $30,001.00 (plus) in purchased Design Studio options.
***Zero Dollar Energy Bill Rebate: Applies to Williams Landing, McCutchan Trace & Essex
Jagoe Homes will reimburse the homeowner's Gas/Electric bill within 10 days of receipt, not to exceed $200.00 per month, for the first two (2) years after move-in. The Energy Rebate is non-transferable.
So, consider what this means for you. Your energy bills will be low because you're in a brand-new Energy Smart home. This also enables you to allocate those savings toward your mortgage payment, so in two years, you will have increased your equity in that payment. You can use it for groceries or save it!
To summarize, we are offerin solutions for buyers. We provide certainty for our buyers through lower rates, as we have nine communities throughout Evansville and Newburgh. We can also build on your own land, keeping various buyer goals and price points in mind, which addresses the inventory concerns and ultimately provides you with more buying power. I excel at finding solutions and guiding clients toward improving their lives.