Jagoe's Sloane Hayhurst gives us the scoop on the Parade of Homes
Posted by Nikki Davis on Thursday, May 18, 2023 at 3:08 PM
By Nikki Davis / May 18, 2023
Comment
GUEST ARTICLE BY SLOANE HAYHURST OF JAGOE HOMES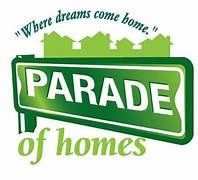 Hello! Guess what is right around the corner?! It's like the Superbowl for new homes in our area. It's the Parade of Homes! Parade of Homes starts Saturday June 3rd through Sunday June 11th. Closed on Tuesday the 6th for the awards banquet. During the parade of homes week you will be able to tour several homes, find the perfect floorplan, meet with builders and New Home Consultants like me who can turn this next phase or theme of your life into a reality. Many visitors that I speak with during the Parade of homes are looking for the right builder for them, gathering remodeling ideas or just something to do with the family. My grandfather was a home builder and I remember touring many of the homes as a kid and it just feels like a tradition now! I like to think about this as a life size brochure as you can see the latest trends and craftsmanship. You want to know one of the most beautiful things about this? It's FREE! A huge thank you to the Southern Indiana Builders Association, sponsors and builders who put this on.
If you are looking for more of an exclusive event, Jagoe Homes is kicking off the Parade by participating in the Chefs on Parade. It's a 1 day event Friday the 2nd 5:30-9:30. This is at 5731 Brompton Drive, Newburgh IN 47630. What makes touring beautiful homes even better? Food! Local Chefs will prepare their fine cuisines and you will have the opportunity to taste these dishes and tour the 4 homes that are participating. A $30 ticket includes your entry into the 4 homes participating. My home in Waterside at Berkshire will be In the Parade and I will be hosting so please come join me!
So, there are at least 22 builders participating this year. That means these builders have planned for months or even a year what they are building for you to tour. An entry requirement is that the homes must be finished, so you will be able to tour all finished homes. I still tour the homes, 1 because I love homes but 2 it's so important for me to know what our competition is doing. If we chat during the tour, I may ask you what you have liked while touring the other homes.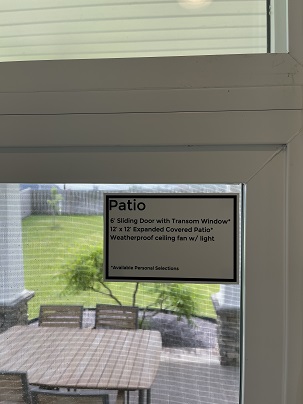 In case you didn't know, we are competing for the Best Interior, Best Exterior, Best Kitchen, Best Bath, most Energy Efficient and Home of the Year Honors! We have won several awards over the last several years in all of those categories.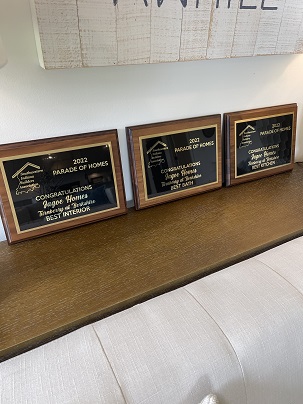 We generally have the most entries in the Parade. We want to showcase all of our beautiful Model homes, so you have a variety and we stage our entries. If you didn't know, having a staged home really allows you to visualize yourself in that space and truly feel the space. A lot of times when you are in an empty home, it messes with your depth of perception. Also, if you didn't know, we have a Pinterest board under Jagoe Homes that allows you to shop all of our staging.
You will also see descriptive name plates throughout most of our entries. Look for those! They describe available selections or what we have selected or featured in that space to help you. So, if you see something you like, scan the QR codes in the models and it will direct you to that homes Design page. It's really cool!
We have 5 entries this year. Ironwood here in Newburgh, IN. This is a beautiful brand-new product to Jagoe Homes. Make sure you see this one. This community is desired more for luxury, move down buyers with less maintenance required for your homesite. William's landing is also in Newburgh. This community features our Farmhouse style exterior homes and is almost complete. We have a few move in ready homes that are available. Waterside at Berkshire. If you listened to our luxury podcast, this is the home to tour. This is also one I really want everyone to see. This home features a walk out basement and over 5,000 square feet to tour in our Presidential series. McCutchan Trace in McCutchanville features a large variety of floorplans and designs and Westridge Commons out on the Westside just past USI. This community sits beautifully surrounded by mature trees and communities and water sites available.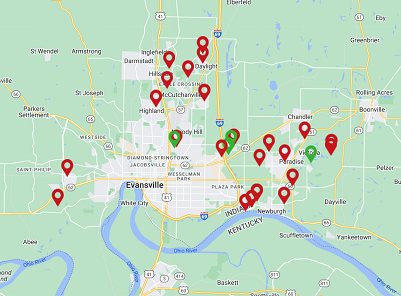 Like I said if you are looking for a new builder, looking for renovation ideas or just something to do on a beautiful day in June, come out and tour. We have a home estimate tool that allows you to see pricing and building options, I setup several of these with clients visiting so be sure to ask for access. If you were not aware go to SIBA's website, they have a neat interactive map so you can plan out your tour. As you can see, these homes will be all over the tri state so take a look at the interactive map. Make sure you vote for your favorite Jagoe Home! Your vote counts! I have noticed in the past that some of the other builder's addresses may not work in google maps. I am here to say that all of our homes in the parade you will be able to easily locate.
Here is the direct link to SIBA's website. https://sibaparadeofhomes.com/