Getting Back to School: Smart Tips for Homeowners
Posted by Nikki Davis on Saturday, August 5, 2023 at 10:07:07 PM
By Nikki Davis / August 5, 2023
Comment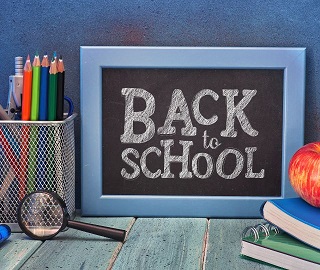 As the lazy days of summer come to an end, the back-to-school season is upon us once again. While parents and children prepare for the school year ahead, homeowners also have a few tasks to tackle to ensure a smooth transition from the carefree days of vacation to the more structured routine of the academic year. Whether you're a seasoned homeowner or a first-time buyer, here are some practical tips to consider as you get back to school and maintain a harmonious home environment.
1. Organize the Drop Zone:
The influx of backpacks, shoes, jackets, and school projects can quickly clutter your entryway. Establish a designated "drop zone" to keep these items organized. Hooks, shelves, and baskets can help keep things in order and prevent morning chaos.
2. Set Up a Homework Station:
Create a comfortable and well-lit space for your children to tackle their homework. A quiet corner with a desk, chair, and necessary supplies can foster focus and productivity. Personalizing the space with inspirational artwork or a bulletin board can make it more inviting.
3. Review Safety Measures:
With kids back to school, it's a good time to review your home's safety measures. Check smoke detectors, carbon monoxide alarms, and fire extinguishers to ensure they're functioning properly. Discuss fire escape plans with your family and update emergency contact information if needed.
4. Adjust Routines:
The relaxed summer schedule might need some adjustments to accommodate school routines. Set consistent wake-up and bedtime schedules to ensure everyone gets enough sleep. Plan family meals and allocate time for extracurricular activities while still allowing for downtime.
5. Plan Lunch and Snack Prep:
If your kids prefer packed lunches, streamline the process by setting up a lunch prep station in the kitchen. Pre-cut fruits and vegetables, portion snacks, and have lunch containers easily accessible. This can save valuable time in the mornings and encourage healthier eating habits.
6. Maintain the Yard:
As summer fades, your yard might need some attention. Trim bushes, clean up fallen leaves, and inspect your outdoor play equipment for safety. If you live in an area with changing seasons, consider prepping your garden for the fall by planting seasonal flowers or vegetables.
7. Revisit Energy Efficiency:
As the weather transitions, evaluate your home's energy efficiency. Seal gaps around windows and doors to prevent drafts, and consider adjusting your thermostat settings to save on energy costs during the day when the house is empty.
8. Establish a Cleaning Routine:
With school in session, your home might experience increased foot traffic and messes. Establish a cleaning routine that includes regular tidying up and a more thorough cleaning schedule for the weekends. Enlist the help of your family members to keep the shared spaces in order.
9. Declutter and Donate:
Before the school year begins, take the opportunity to declutter your home. Go through closets, cabinets, and storage spaces to identify items you no longer need. Donate gently used clothing, toys, and other items to local charities or shelters.
10. Communicate and Prioritize:
With school, work, and various activities, family members might find themselves pulled in different directions. Regular family meetings can help align schedules, discuss upcoming events, and ensure everyone's needs are met.
In conclusion, as the back-to-school season arrives, homeowners can benefit from a bit of preparation and organization. By setting up efficient routines, creating dedicated spaces, and reviewing safety measures, you can make the transition from summer to school smoother for the whole family. With careful planning, your home can remain a haven of comfort and productivity throughout the academic year.