Festive and Functional: Decorating Your Home for Thanksgiving
Posted by Nikki Davis on Tuesday, November 14, 2023 at 6:45:20 PM
By Nikki Davis / November 14, 2023
Comment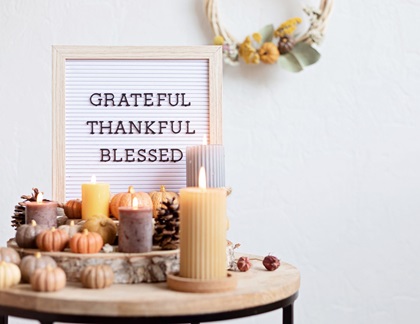 As we approach the season of gratitude and togetherness, it's time to infuse your home with warmth and festive charm. Thanksgiving, a time for sharing meals and creating lasting memories, deserves a special touch when it comes to decorating. Let's explore creative and functional ideas to make your home a haven of Thanksgiving cheer.
1. Harvest-Inspired Table Settings
Create a captivating Thanksgiving table by incorporating elements from nature. Use warm-toned tablecloths, placemats, and napkins paired with seasonal touches like gourds, pumpkins, and acorns as charming centerpieces.
2. Cozy Thanksgiving Nook
Designate a cozy corner or reading nook with plush blankets, oversized pillows, and soft lighting. This inviting space encourages family and friends to unwind and share stories of gratitude.
3. Thankful Tree
Craft a "Thankful Tree" by hanging paper leaves on branches or twigs placed in a vase. Encourage your guests to write what they're thankful for on each leaf, creating a heartwarming visual display of gratitude.
4. Fall Wreaths and Door Decor
Welcome guests with a festive fall wreath on your front door. Incorporate autumn leaves, pinecones, and burlap for a rustic touch. Consider adding a personalized banner expressing gratitude or a simple "Give Thanks" sign.
5. Seasonal Scents
Infuse your home with the inviting scents of Thanksgiving. Simmer a pot of cinnamon, cloves, and orange peel on the stove or use scented candles in warm fragrances like pumpkin spice or apple cider.
6. Warm Lighting
Enhance the cozy atmosphere with warm, ambient lighting. Use string lights, candles, or fairy lights to add a soft and inviting glow to your living spaces.
7. DIY Gratitude Garland
Craft a gratitude garland using paper or fabric leaves. Write down things you're thankful for, and string them together to create a heartfelt decoration that reminds everyone of the season's spirit.
8. Earthy Centerpieces
Design elegant and straightforward centerpieces using natural elements like pinecones, eucalyptus, and seasonal flowers. Place them in wooden or metallic containers for a touch of sophistication.
9. Fall-Themed Pillows and Throws
Update your pillows and throws to match the autumn season. Choose warm colors and cozy textures to make your living spaces feel inviting and snug.
10. Rustic Place Settings
Opt for rustic-inspired place settings with wooden chargers, neutral-colored plates, and simple linen napkins. Tie everything together with a sprig of rosemary or a small pumpkin at each place.
11. Autumnal Mantel Display
Decorate your mantel with fall-themed elements like framed gratitude quotes, pumpkins, and candles. Create a cohesive look by sticking to a warm color palette.
12. Thankful Banner
Hang a "Thankful" banner in your dining or living room. You can purchase one or create your own using craft paper or fabric. This simple yet impactful addition sets a grateful tone.
13. Pumpkin Centerpiece
Use a hollowed-out pumpkin as a unique centerpiece. Fill it with seasonal flowers, berries, or even a small bouquet of wheat for a charming and natural touch.
14. Family Recipe Display
Display handwritten or printed family recipes on a decorative board or framed display in the kitchen. This not only adds a personal touch but also celebrates the cherished traditions of Thanksgiving.
15. Festive Serving Ware
Serve your Thanksgiving feast on festive dishes, platters, and serving ware. Choose pieces that complement your overall décor theme for a cohesive and stylish look.
16. Grateful Wall Art
Create a gallery wall featuring framed prints or handwritten notes expressing gratitude. This focal point adds a personal touch to your home and serves as a constant reminder of the season's meaning.
17. Autumnal Curtains or Drapes
Update your window treatments with autumn-inspired curtains or drapes. Choose warm hues like deep reds, oranges, or browns to tie in with the season.
18. Warm Beverage Station
Set up a warm beverage station with a variety of teas, hot cocoa, and spiced cider. Arrange it with festive mugs, cinnamon sticks, and a selection of toppings for a cozy and welcoming touch.
19. Handmade Place Cards
Craft handmade place cards using natural materials like twine, leaves, or small branches. These personalized touches add a thoughtful element to your Thanksgiving table.
20. Family Photo Collage
Create a collage of family photos showcasing cherished moments from past Thanksgivings. Frame and display them in a central location to evoke a sense of nostalgia and family unity.
With these festive and functional Thanksgiving decorating ideas, your home will exude the warmth and gratitude of the season. Embrace the spirit of Thanksgiving by infusing your living spaces with love, charm, and the joy of gathering with loved ones. Stay tuned for more holiday-inspired tips in our November Home Readiness series! 🍂🏡🧡