Embracing the Cozy Vibes: Fall Decorating Ideas Before Halloween
Posted by Nikki Davis on Friday, August 11, 2023 at 8:43:36 PM
By Nikki Davis / August 11, 2023
Comment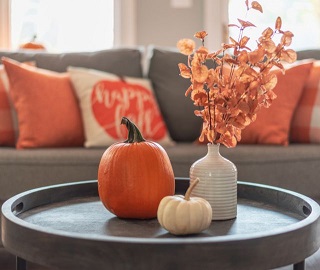 As the leaves begin to turn and a crispness fills the air, the arrival of fall beckons us to transform our homes into cozy sanctuaries that reflect the warmth and beauty of the season. While Halloween may be just around the corner, there's no rush to embrace spooky decorations just yet. In this blog, we'll explore creative ways to decorate for fall without diving headfirst into Halloween, allowing you to savor the autumnal ambiance a little longer.
Nature's Bounty: Bring the Outdoors In
One of the simplest and most effective ways to decorate for fall is to gather elements from nature and incorporate them into your decor. Fill vases and baskets with an array of colorful leaves, pinecones, acorns, and branches. Arrange them on mantels, coffee tables, or window sills for an organic and rustic touch that celebrates the changing landscape.
Warm and Earthy Color Palette
Fall is synonymous with warm, earthy tones that evoke feelings of comfort and coziness. Incorporate shades of burnt orange, deep red, mustard yellow, and rich brown into your decor. Swap out your throw pillows, blankets, and table runners for ones in these inviting colors. This simple change can instantly infuse your space with a cozy autumn atmosphere.
Candles and Soft Lighting
As daylight hours dwindle, embracing soft and warm lighting can create a magical ambiance. Scatter an assortment of candles in varying sizes throughout your living spaces. Opt for scents that evoke fall, such as cinnamon, apple, or vanilla. Consider using string lights or fairy lights to add a touch of enchantment to your indoor and outdoor spaces.
Fall Wreaths and Garlands
Decorative wreaths and garlands are timeless accents that can be tailored to suit the season without diving into Halloween themes. Craft a beautiful fall wreath using dried leaves, berries, and pinecones. Hang it on your front door to welcome guests or use it as a focal point above your fireplace.
Pumpkins Galore
Pumpkins are the quintessential fall decor item, and they need not be reserved solely for Halloween. Choose a mix of real pumpkins in various sizes and faux ones in neutral colors. Display them on your porch, stairs, or as centerpieces on dining tables. To avoid a spooky vibe, opt for a more classic and natural pumpkin look instead of carving intricate designs.
Seasonal Textures and Fabrics
Fall is all about textures that make you want to snuggle up. Swap out lightweight summer fabrics for cozy options like wool, flannel, and faux fur. Incorporate these materials into your cushions, throws, and even your table linens for a tactile and inviting feel.
Harvest-Inspired Tablescapes
Create a fall-themed tablescape that celebrates the harvest season without delving into Halloween themes. Utilize wooden chargers, linen napkins, and seasonal dishes. Add a touch of elegance with metallic accents in gold or copper. Incorporate natural elements like mini pumpkins, gourds, and leaves for a festive yet sophisticated table setting.
As fall arrives, there's no need to jump straight into Halloween mode. By focusing on the beauty of the season's colors, textures, and natural elements, you can create a warm and inviting atmosphere that embraces the essence of autumn. With these ideas in mind, your home will become a haven of coziness that you, your family, and your guests can enjoy before the Halloween festivities take center stage.